Reubens
NCS Cartoonists Visit USS Enterprise
September 17, 2012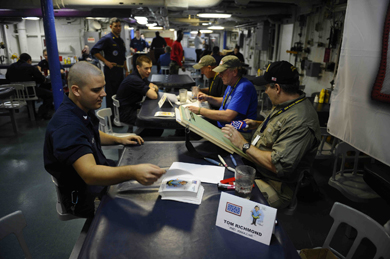 Jeff Bacon, Jeff Keane and Tom Richmond draw for the crew on the USS Enterprise
ARLINGTON, VA (September 17, 2012) – In support of our nation's service heroes stationed overseas, the USO and National Cartoonists Society (NCS) just wrapped up its week-long USO/Armed Forces Entertainment tour to the Middle East.
During the trip, the group made history by landing onto the USS Enterprise, the world's first nuclear powered aircraft carrier and the U.S. Navy's oldest active duty vessel, which is currently on its 25nd and final deployment. Among those making their spirit lifting rounds downrange are Jeff Keane ("The Family Circus"), Jeff Bacon ("Broadside" and "Greenside"), Dave Coverly ("Speed Bump"), NCS President Tom Richmond (MAD Magazine), Rick Kirkman ("Baby Blues") and Sam Viviano (MAD Magazine).
Photos available at http://bit.ly/ShgyCr
• During the group's week-long USO tour, the group visited hundreds of military personnel and spent upwards of 30 hours crafting caricatures and cartoons for troops stationed in Bahrain and at sea. The artists will also brought laughter and extended their heartfelt gratitude.
• On August 29, the group made history when it landed onto the USS Enterprise and provided the carrier's final stint of USO entertainment at sea before being decommissioned later this year. While aboard, the group toured the vessel, observed flight operations and met with budding cartoonists from the crew. The group also drew caricatures and more personalized sketches.
• This was the third USO tour for Bacon, Keane, Kirkman and Richmond and the second for Coverly and Viviano, who have traveled to Kuwait, Iraq and Germany collectively since 2009.
• The NCS traces its association with the USO to World War II, when professional cartoonists made repeated trips overseas to spend time with troops. Whether visiting military hospitals, entertaining troops with chalk talks, or sharing words of encouragement, approximately one hundred professional cartoonists and caricaturists have participated in military-related USO trips since 2005.
• Within the past four years, the USO sponsored more than twenty cartoonists to travel overseas and visit troops. Among those who made the trip were Chip Bok, Bruce Higdon, Mike Peters, Michael Ramirez, Bill Hinds, Ed Steckley, Dave Coverly, Debbie Schafer and T. Lewis, among many others.
• Authorized for construction by Congress in 1954, the USS Enterprise (CVN 65) is the world's first nuclear-powered aircraft carrier. Now in its 51st year of operation, the carrier is now the oldest active duty ship in the U.S. Naval fleet. The USS Enterprise is currently on its 22nd and final deployment, and is expected to make its final return to its homeport of Norfolk, Virginia in the fall, where it will be decommissioned during an Inactivation Ceremony on December 1, 2012.
QUOTES:
Attributed to Jeff Bacon:
"It was an honor – and quite humbling – to spend some time with the men and women in the ENTERPRISE Strike Group. I have heard it say that this is the next Greatest Generation, and I could not agree more. Our nation's defense is in good hands. We can't thank the USO and the Navy enough for giving us the opportunity to give back to those who serve."
Attributed to Dave Coverly:
"What a privilege to spend 4 full days – very full days – with the amazing men and women who keep the Enterprise running like a well-oiled machine. Their skill and dedication was amazing, as was their pride in the ship itself. It was a genuinely moving experience, and a lifetime highlight."
Attributed to Jeff Keane:
"These were 4 days I will always remember. Not only because of getting the chance to take part in the last voyage of the legendary Enterprise but the opportunity to meet her extremely dedicated crew. Through this USO tour I, once again, was able to meet the people who we all should be proud of and extremely grateful are willing to serve our country."
Attributed to Tom Richmond:
"Getting an opportunity to spend time meeting and talking with the men and women serving on the USS Enterprise was a true privileged. We all feel grateful to have been a small part of the final deployment of this legendary vessel, to see first-hand the dedication and pride of the crew and officers, and to spread a few smiles around among those making great sacrifices to serve and protect our country. It's our honor to be allowed to do these trips."
Attributed to Rick Kirkman:
"The Enterprise isn't just a ship, but the people who've served on her. The people we met on this tour made us feel welcome and secure. It was a tremendous pleasure and honor to get to know them for that short time. The Enterprise will always have a special place in my memories."
Attributed to Sam Viviano:
"The pride shown in this great ship, from the Admiral and Commander to the newest crew members, was awe-inspiring. It was indeed a privilege to spend some time with them to express our gratitude for their service to our country."
MULTIMEDIA:
USO Tour Photos: http://bit.ly/ShgyCr
USO Fact Sheet: http://bit.ly/yaebvo