Reubens
Mell Lazarus And Momma Got The Last Laugh
February 6, 2017
From our pal Sally Lazarus:
Dear friends- Below is [the link to] an article that was originally intended for Gawker before the sale and break up of the website. The author moved over to another publication and finished the piece there. It was published last month. He contacted the syndicate right after the final original Sunday strip ran and said he loved it and he sensed there was a story behind it, wondering if he could get someone to talk about it. The syndicate forwarded his request to me. Lovely man with a big heart. I hope you enjoy the piece. xo, Sally
Mel Lazarus and Momma Got the Last Laugh by Tom Scocca
For nearly 35 years, Mell Lazarus knew exactly how the end would go for Momma. In 1982, when the cartoonist began dating Sally Mitchell, who would become his second wife, he confided to her that he had already decided what the final installment of his comic strip would be, and he told her the idea.
Lazarus did not share the idea with the comics syndicate, Mitchell recalled in a phone conversation, nor with his daughters, nor even with his brother, Herb, who was his best friend.
"We never talked about it again," Mitchell said, "but I always had it."
To a faithful reader, or to a casual one, the idea of Momma reaching an end seemed wholly abstract. The title character, Sonya Hobbs, had by her own account always been dying, bringing her grown children running with claims of one mortal illness or another ever since Lazarus started the strip in 1970. It was one of the most reliable bits. The readers might reasonably have believed that the joke was that she would never die.
When they opened the paper on July 10, they found out what the real joke was.
That day's Momma, a Sunday, was a single panel, a cemetery scene, with a big tombstone in the center. The top of the tombstone read:
R.I.P.

SONYA HOBBS

1927-2016
Below that was the punchline Lazarus had come up with decades earlier:
I TOLD

YOU I

WAS SICK
The gag itself was sent from the grave. Mell Lazarus had died of complications from Alzheimer's disease on May 24, at the age of 89. Momma was dead. Momma was dead. The creator of Momma was dead. That's how it ends.
Get it?
Around the grave were mourners from the rest of the funny pages: Cathy, of Cathy, dressed in black and weeping into a tissue; Jeffy, of The Family Circus, kneeling with a tear running down his cheek; Jeremy Duncan, of Zits, slumping with a bouquet drooping from his hand. One of the dogs from For Better or For Worse prostrated itself on the grave. (Mitchell was unsure whether the dog was Edgar or Edgar's father, Farley, who had died in the strip in a tragic special event back in 1995.) A whole funeral band, knee-high to the other characters, was playing, sent from the margins of Madmagazine by Sergio Aragonés.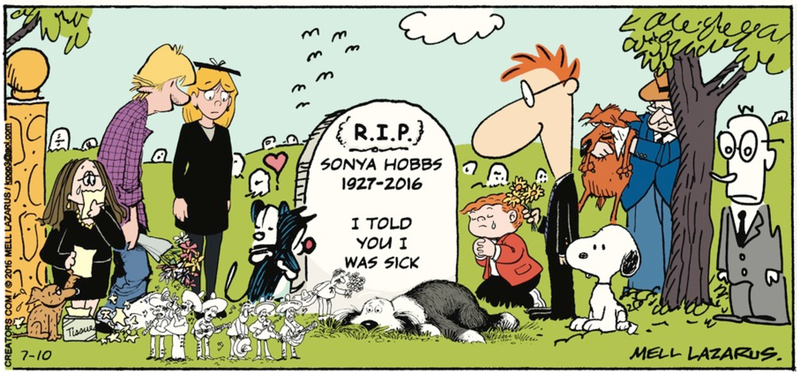 In January, David Bowie released a surprise album, Blackstar, with songs and videos full of the symbolism of mortality (one track was called "Lazarus"). Two days after that, Bowie was dead. The world marveled at how the protean rock star, hiding his terminal liver cancer, had poured his last energy and his final artistic inspiration into a riddle about facing the end—a rare work of bravery and genius.
Seven months later, Momma accomplished more or less the same thing in the funny papers. Mell Lazarus had planned to do the gag himself, to kill off Momma while alive and well. In 2002, he'd retired his other, older daily strip, Miss Peach, after a 45-year run. Mitchell said that Lazarus had expected eventually to retire Momma, too, and to focus full-time on writing novels and screenplays.
Before he could realize that plan, though, Lazarus was diagnosed with Alzheimer's. Mitchell quit her job as a lawyer to spend more time with him, and she began helping him write the strip. Over the course of two years, she took to writing the jokes on her own, with her husband still doing the artwork.
"He was drawing up until the end," Mitchell said. Only when he had weeks to live did the daily strip go into reruns. Thanks to longer lead times, the Sundays were new till the end.
The rerun daily strips surrounding Momma's last message seemed, on inspection, to be likewise death-haunted. But that was just everyday Momma. Momma was always a straightforward gag strip, uninterested in story arcs or special occasions, yet it was also always a dark proposition—Sonya Hobbs, grappling for her children's attention and refusing to let them grow up, was funny because she was trying to deny time and mortality.
Lazarus had already survived a case of metastatic colon cancer in the late '90s, going through a year of chemotherapy. When Charles Schulz was diagnosed with colon cancer in 1999, Mitchell said, the Peanuts creator called up Lazarus for advice. "'I'll tell you one thing,'" she recalled her husband saying. "Number one, do not quit the strip." The work, she said, had kept Lazarus "focused and moving forward," and she was dismayed when Schulz announced he was giving up Peanuts. Two months later, just as the last batch of finished Peanuts strips was about to be exhausted, Schulz died.
Momma was such an everyday fixture in the comics section, and its themes and dimensions were so ordinary and domestic, that it took prolonged reading to recognize how sharp its bite could be, and how consistent. Momma was a cruel mother-in-law because she would not surrender her son Thomas to his wife and allow herself to be supplanted. She pitied and savored the failure of her daughter, Marylou, to hold a steady boyfriend; her attempts at autonomy only sent her weeping back to Momma.
Her obvious favorite, though, and Lazarus's, was Francis, the shaggy freeloader, a womanizer incapable of monogamy, an aimless and unemployable layabout. Even as she scolded him for being a parasite, Momma couldn't hide her delight at his unbreakable status as dependent.
It was Francis, the deadbeat, whom the steady-working Lazarus said he identified with. And Momma was his mother, though she endlessly and characteristically professed to believe he was caricaturing her sister, his Aunt Helen. "She used to say, 'You captured Aunt Helen beautifully today,'" Mitchell said.

Lazarus died on May 24, a Tuesday, after a few weeks of hospice care at home. The upcoming weekend was going to be the Reuben Awards, the cartoonists' Oscars, the big annual industry gathering. Lazarus had won the Reuben Award for Outstanding Cartoonist of the Year in 1981, and had been a faithful attendee all the way back to the 1950s.
Mitchell had been talking to Rick Kirkman and Jerry Scott, the team who draw Baby Blues, about Lazarus's vision of his last strip. If she produced the tombstone, could the artists gathered for the Reubens fill in the mourners?
The image itself would need to come from somewhere in Lazarus's old files. Through the years, Momma had dreamed or fantasized about the graveyard often enough that there had to be a usable drawing of a tombstone. Maybe it would need to be enlarged, Mitchell, thought, to get the focus right.
Cathy Guisewite, of Cathy, had come out from Florida to keep Mitchell and Lazarus company at the end. She went with Mitchell to Lazarus's studio to hunt for the right picture in his files, nearly a half century's worth of art. "I went back a couple of years, and then just started," Mitchell said. The third strip she touched was a Sunday panel with a big tombstone in the middle.
"We were literally out there for 45 seconds or a minute, and I pulled out the perfect artwork," Mitchell said. No cropping or enlarging. All it needed was new lettering. "It just came to my hand," she said.
With Scott and Kirkman rounding up the work, some of the artists at the Reubens drew in their own characters on the strip; some sent in scans to add. Kirkman worked the images into the strip digitally and colorized it. Mitchell had been doing the color work on the later strips herself, and had thought she would handle the final one. "The reality is that I wouldn't have been able to pull it off that way," she said.
Six weeks after the Reubens, when the rest of the other prepared strips had run, the final Momma appeared. Mell Lazarus's colleagues had delivered a touching tribute to his life and work. Mell Lazarus had delivered a punchline. It killed.